How to Lose a Client
A Kate Williams Mystery
by Becky A. Bartness
---
How to Succeed Without Dying
Becky A. Bartness
$22.95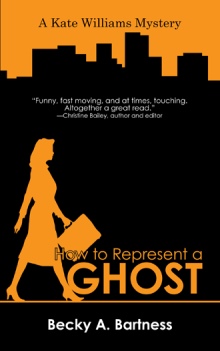 How to Represent a Ghost
Becky A. Bartness
$21.95
How to Lose a Job
Becky A. Bartness
$11.95
---
Publication Date
:
12/17/2009
Recognition Programs
---
About the Book
Kate Williams, Esq., has just started her own criminal defense law firm in Phoenix, Arizona, when Katherine Paar aka Tangerine, a new client, walks in and proposes a lucrative deal to bring Kate on as her attorney. Things get complicated and events unfold quickly when the body of Tangerine's ex-lawyer is discovered and Tangerine disappears. Kate, aided by MJ, her tattooed, pierced, and fashion-challenged paralegal and Sam, her sometimes cross-dressing investigator, along with a cast of characters straight out of a John Waters movie, try to unravel the bizarre mystery and save Tangerine's life. The action is fast and fantastically funny, and Ms. Bartness proves once again that you can laugh at death.
---
About the Author
Becky A. Bartness is an attorney who has been practicing law in Phoenix, Arizona, for thirty-plus years. She has published several poems and two previous Kate Williams mysteries, How to Ruin a Vacation and How to Lose a Job. Ms. Bartness is married and has two children and three dogs.