How to Lose a Job
A Kate Williams Mystery
by Becky A. Bartness
---
How to Succeed Without Dying
Becky A. Bartness
$22.95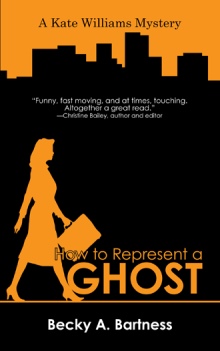 How to Represent a Ghost
Becky A. Bartness
$21.95
How to Lose a Client
Becky A. Bartness
$17.95
---
Publication Date
:
2/4/2009
Recognition Programs
---
About the Book
After working fourteen years as a successful criminal law attorney in Chicago, Kate Williams leaves her job looking for a more stress-free lifestyle. A recent vacation at an Arizona dude ranch entices her to the state, and she accepts a position as a deputy county attorney in Phoenix.
Within weeks of beginning her new position, Kate realizes that the Maricopa County Attorney's Office is not the employee haven she'd hoped it would be. Not only does her supervisor, County Attorney Stan Rantwist, claim he receives his orders from a higher power, but his sneaky assistant Alan White seems to have made it his life's work to spy on Kate's professional and personal activities. Worst of all, it looks like something illegal may be going on in the office. Kate enlists the help of her oddball assistants-the tattooed and pierced MJ Polowski and the germaphobic Marcus John Martinez-O'Reilly Ramirez, otherwise known as Sam-to help her investigate a series of grossly overcharged criminal cases.
When investigation of the improper charges leads Kate and her crew to the discovery of more serious, widespread corruption Kate faces the difficult decision of who to trust. Can she be sure that the handsome Deputy Sheriff Bryan Turner is on her side when he offers to assist? One misstep and it could be more than her career at stake.
---
About the Author
Becky Bartness is an attorney who has been practicing law in Phoenix, Arizona, for twenty-nine years. She has published several poems and the first Kate Williams mystery, How to Ruin a Vacation, in February of 2008. Ms. Bartness is married and has two children.