Who Jinxed the C&G Ranch?
Peanut Butter Club Mysteries: Book 2
by Mary Ellen Erickson
---
Geezettes
Mary Ellen Erickson
$12.95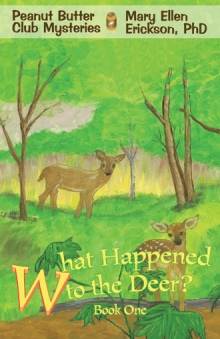 What Happened to the Deer?
Mary Ellen Erickson
$13.95
Dontcha Know?
Mary Ellen Erickson
$12.95
---
Publication Date
:
5/19/2009
---
About the Book
In the second volume of this exciting mystery series, the Haskell grandparents, Abby and Josh, take their four grandchildren and two friends to Medora in the beautiful North Dakota Badlands to help Aunt Gracie and Uncle Clyde run the C&G Ranch. But little do they know of the summer adventure that awaits!
At first, life at the ranch couldn't be better. Responsible thirteen-year-old Audrey becomes a good horse trainer while her twelve-year-old brother Denny and his friend, Randy, can't stay out of trouble. Denny's twin sister, sarcastic Jenny, and her eleven-year-old friend Missy learn to take care of each other. Enthusiastic eight-year-old Ty continues to be a source of fun and amazement. Together, the kids form the Peanut Butter Club.
When Uncle Clyde tells the kids about the mysterious horse thieves that never leave a footprint or a fingerprint, the club springs into action. In their investigation, they meet a host of colorful characters including the suspicious Sheriff Rudolph, the rugged Rattlesnake Lenny, and the mysterious Black Knight. But who—or what—is jinxing the C&G Ranch?
With good teamwork, true friendship, and a little help from the adults, the Peanut Butter Club is determined to solve the mystery and save the ranch from financial ruin before it's too late!
---
About the Author
Dr. Mary Ellen Erickson, PhD grew up on a farm in North Dakota. She spent forty years in the North Dakota School system as a teacher and counselor. Now retired, Erickson resides on a farm in North Dakota with her husband Dwayne.