My McCabe History and the Greater World
by Ebe McCabe
---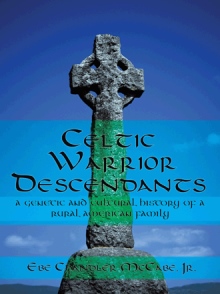 Celtic Warrior Descendants
Ebe Chandler McCabe, Jr.
$19.95
Sea and Shore Stories, and the Nuclear Boogeyman
Ebe Chandler McCabe Jr.
$20.99
---
Publication Date
:
10/6/2021
---
About the Book
Ebe Chandler McCabe, Jr, a retired Navy captain who also had a long career as a nuclear power plant regulator, examines his family history in context with mankind's. He was born in Philadelphia into a family with an Irish and Polish heritage. His father lost his job during the Great Depression and supported the family as a milkman. Ebe was eight years old when Pearl Harbor was attacked and the nation went to war. He grew up admiring the World War II leadership of President Roosevelt and Prime Minister Churchill and honoring Gold Star families who had lost sons in the war. After graduating from the U.S. Naval Academy, his over twelve years of active duty ended with Cold War tours on two fleet ballistic missile submarines and a year on the staff of the Atlantic Submarine Force Commander. Later, he joined the Atomic Energy Commission as a regulator of commercial nuclear power plants. He finished over 20 years of that duty with the Nuclear Regulatory Commission, and also became a Captain in the U.S. Naval Reserve. Join Ebe's integration of his and mankind's history and nature.
---
About the Author
Ebe Chandler McCabe, Jr. a retired Navy Captain and a patriot with more than thirty-eight years of military and civilian government experience, strongly believes in equal opportunity and individual responsibility. After more than twelve years of destroyer, diesel-electric submarine, and Cold War fleet ballistic missile submarine experience, he went on to work in the nuclear power field and, as a Nuclear Regulatory Commission Section Chief, responded to the Three Mile Island nuclear accident. He also commanded two submarine units in the Naval Reserve.